12 Dartmoor Artisans To Visit
THE DARTMOOR ARTISAN TRAIL - WHO TO VISIT
The Dartmoor Artisan Trail gives visitors a glimpse behind the workshop walls of Dartmoor's finest craftspeople. Founder Suzy Bennett suggests who to visit during a stay at Moorland View, a holiday cottage that's on the trail. Photos by Suzy Bennett.
Katherine Miles / Willow Weaver / Chagford
Famed throughout the South West for her life-sized willow animal sculptures, Katherine's work is displayed in stately homes, private gardens and as interior design pieces. Katherine's studio is a sight in itself. Nestled in an arboretum in Chagford's Stone Lane Gardens, it's crammed with sculptures of beasts, including highland cows, pigs, horses, deer, donkeys, sheep, goats, hares, owls, llamas, foxes, swans and birds of prey. Katherine welcomes visitors and offers short weaving courses.
Greg Abel / Blacksmith / Moretonhampstead
One of just a handful of blacksmiths left on Dartmoor, Greg Abel works in a 150-year-old stone forge, where vintage farm and farriers' tools, made by previous smithies, still hang from the rafters. Greg uses traditional coal in the original hearth rather than gas, which is now more commonly used, with hammer and anvil still his main tools. You can drop in to see Greg at work, or book in for a course and learn how to make a fire poker, toasting fork, letter opener, coat hook or barbecue butler
Sharif Adams / Wood Turner / North Bovey
Specialising in ancient woodturning techniques, some of which date from the Iron Age, Sharif uses a traditional pole lathe powered by a treadle to turn bowls, pots, cups, flasks and boxes, sourcing wood from sustainable Dartmoor forests. Sharif works in beautiful stone threshing barn on a working farm near North Bovey. During Sharif's demonstration, you will see him practise this age-old skill to craft a wooden bowl. Using a pole lathe requires a moderate amount of physical energy but it is great fun and can be a real challenge. No previous woodturning experience is required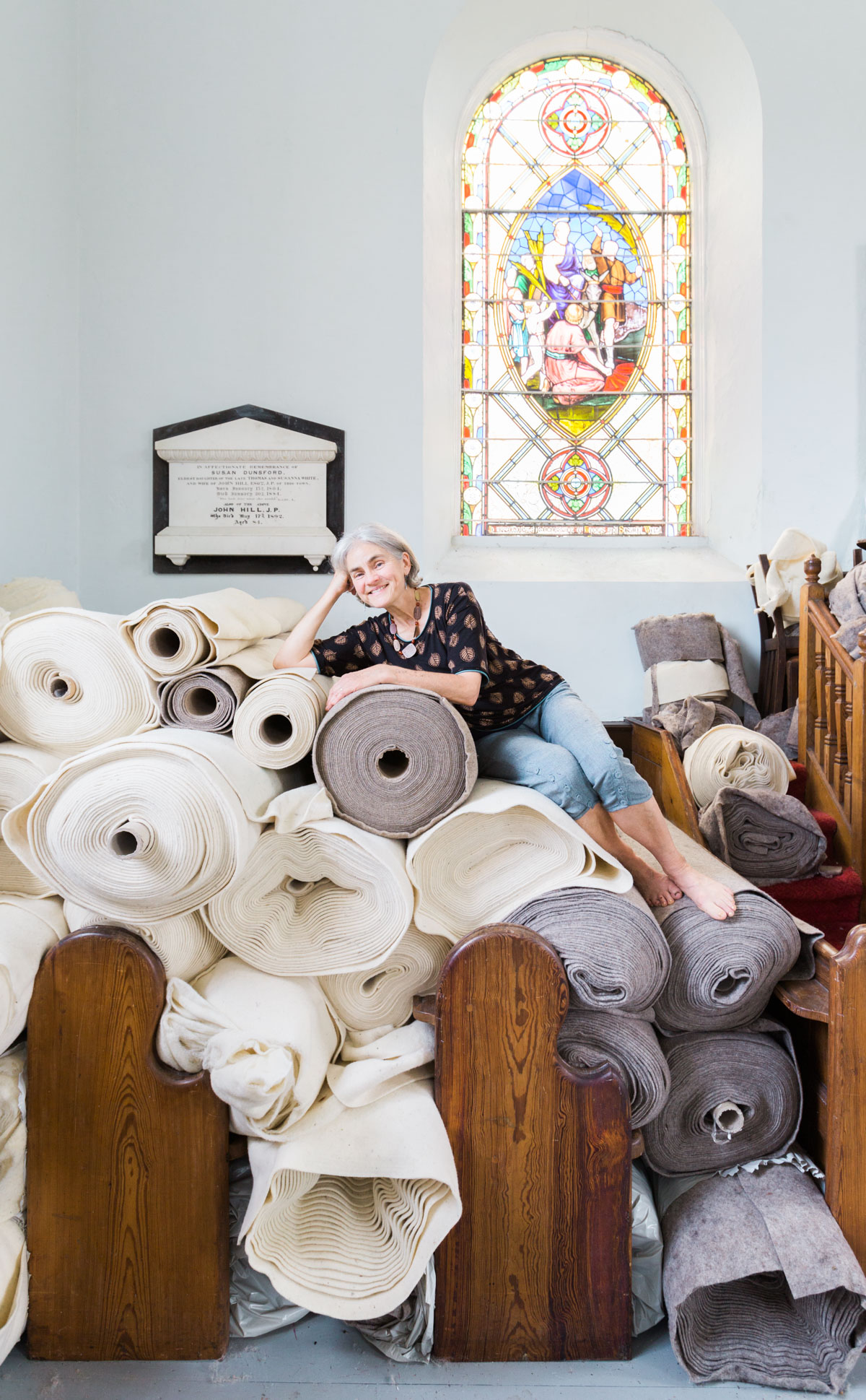 Yuli Somme / Felt Maker / Moretonhampstead
Yuli is the UK's only remaining maker of burial shrouds, a funereal tradition dating from the 17th century, when law decreed that the dead must be buried in wool. Yuli also makes felt urns for cremated remains, hot-water bottle covers, tea cosies, pillows, seat pads and hats, which she sells in her Moretonhampstead studio, which doubles as a Unitarian chapel. During her workshops, Yuli will give you a tour of her beautiful studio, pictured, and you'll have the chance to produce your own piece of felt.
Alison Hastie, Green Shoes, Moretonhampstead
With her company, Green Shoes, listed as one of world's most ethical shoemakers, Alison Hastie and her small team hand-makes footwear to order, using full-grain leathers and vegan alternatives. Her workshop is in a beautiful chapel in the artisan town of Moretonhampstead. You'll be treated to a personal guided tour of her workshop, where Alison will show you how she hand makes her shoes from scratch.
Stuart Coote / Upholsterer / Chagford
Follow the sounds of chamber music that waft around the backstreets of Chagford and you'll be led to the Georgian coachhouse where Stuart devotes himself to upholstering antique and modern furniture the traditional way. His is a wonderfully riotous workshop, where walls are hung with half-broken chairs, furniture springs and enormous rolls of webbing, and floors are scattered with off-cuts of damasks and fine silks, piles of lambswool and hessian bags overflowing with horse hair and shredded coconut husks. Stuart welcomes visitors, but it's best to check he's in by calling first.
Ambrose Vevers / Wood Worker / Ashburton
One of Dartmoor's up-and-coming craftsmen, Ambrose hand-makes contemporary furniture using traditional techniques such as steam bending. He sources his wood from coppicing and careful woodland management. Ambrose offers three-hour courses where you'll learn to make your own coat hook or beautiful elm chopping board.
Miriam Boy / Jeweller / Chagford
Working from a cosy studio in the centre of the ancient stannary town of Chagford, Miriam makes silver jewellery using designs inspired by the moors and wildlife that surrounds her. Miriam is one of the few people in the UK to offer lovebirds the chance to design and make their own wedding rings
Ron produces up to 1500 gallons of cider using one of the UK's oldest working cider presses, in a barn that dates back to Saxon times. Ron offers one-hour tours, showing you around these characterful historic buildings and explain how cider is produced using his traditional press, pictured above. There will be a chance to look around the orchards, where old and rare apple varieties still grow, including the wonderfully-titled Fair Maids of Devon, Pigs' Snout and Slack-ma-Girdle. There'll also be a chance to taste his cider, but beware - it's strong!
A rising star of Dartmoor's arts scene, Sophie paints impressionist landscapes of the north moors, with Skaigh Woods a favourite spot. Sophie runs regular 'art walks' - group painting sessions in the outdoors – in the Belstone area.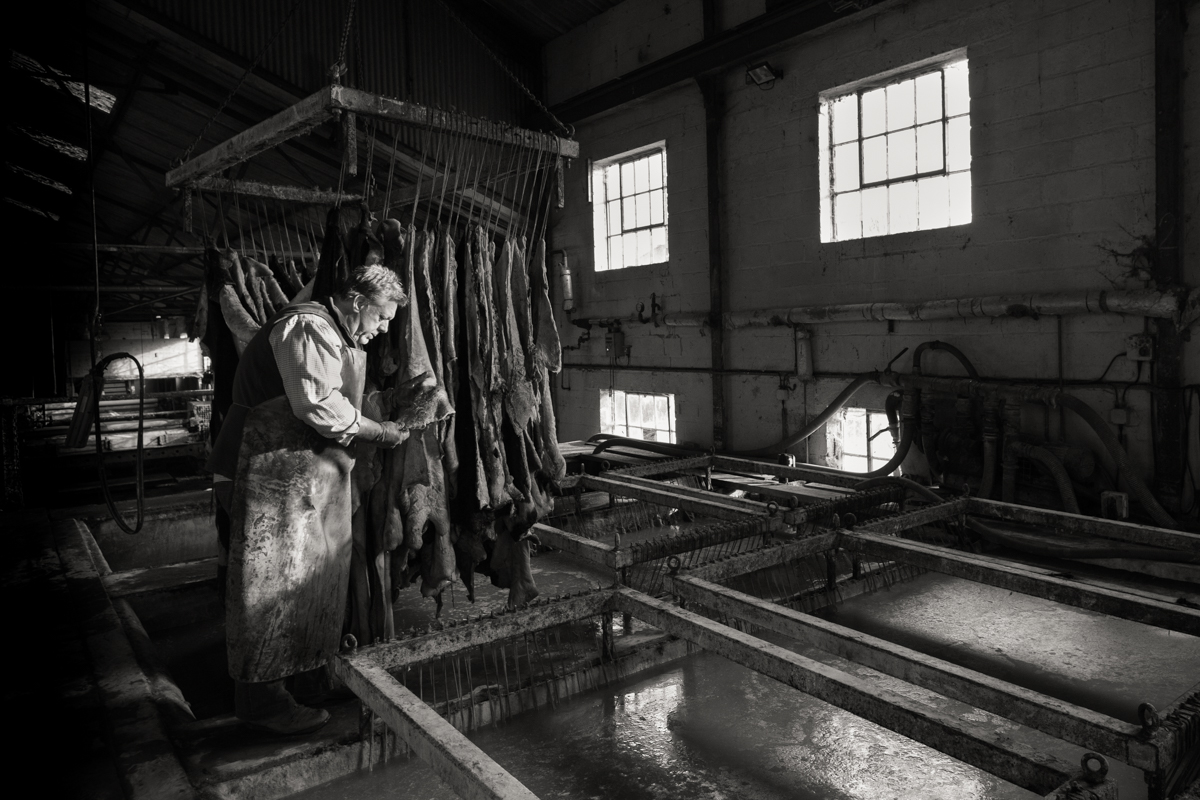 Martin Brady / Leather Worker / Chagford
Martin has a hands-on approach to his craft, visiting tanneries to select the perfect hides. Here, is pictured sampling skins at J&FJ Baker & Co, the UK's last remaining oak-bark tannery, in Colyton, East Devon. Martin hand-stitches his products, which include belts, handbags and dog collars, at his shop in Chagford, in full view of his customers. Martin offers short workshop, where you'll have the chance to produce your own bookmark or key fob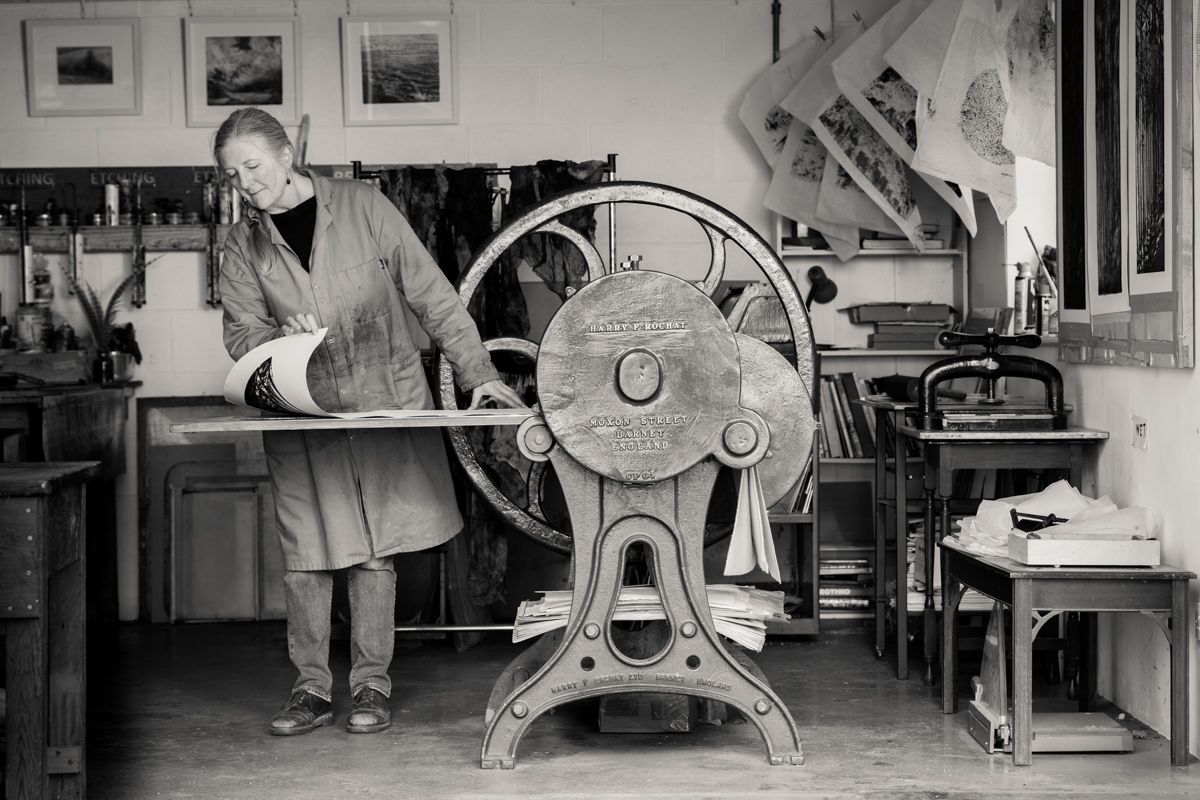 Mary Gillett / Printmaker / Tavistock
Inspired by Dartmoor's atmospheric landscapes, Mary etches scenes of its valleys, woodlands and open moors onto metal plates, then passes them through her vintage printing press, pictured. Mary's workshops are suitable for everyone from complete beginners to experienced printmakers
This stunning Dartmoor holiday cottage is right on the Dartmoor Artisan Trail and displays the work of several artisans.